RESIN
DRIVES

PETERSFIELD

We are the South's leading specialists in Resin Bound Surfacing for driveways, paths and patios
– and surfaces in public and commercial areas. Working throughout the Petersfield area including Liss, Rogate, East Meon, West Meon, Buriton, Steep and other areas.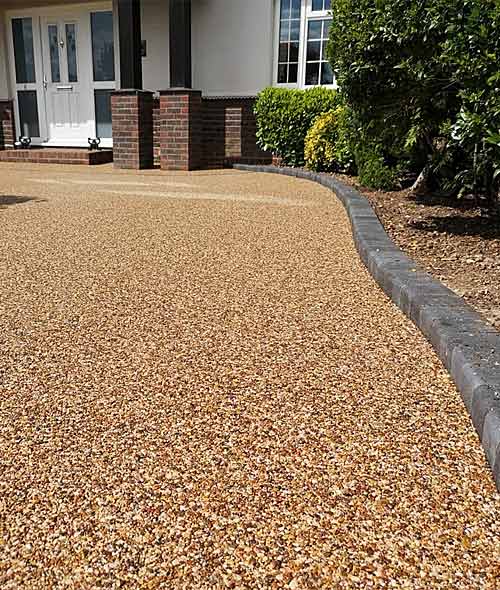 Resin

Surfacing Petersfield

RESIN STONE DESIGNS have built up an excellent reputation in the resin driveway construction business in the Petersfield area – with over 30 years' experience, serving grateful local customers. We provide a full and professional service from careful planning through to the final finish, using the best quality materials available for every project.

Resin bound surfacing is a perfect solution for driveways, paths and patios. It's also being used more and more in public and commercial areas – car parks, hotels, care homes, offices and shop fronts.

It's more versatile than traditional surfaces like concrete, block paving and tarmac because of its toughness and durability – it drains well and it can be laid in a huge variety of colours and designs to suit your personal taste. It's elegant, smooth, seamless, hard wearing, porous and SUDS (sustainable urban drainage system) compliant.
Choose

a Resin Bound Surface
Smooth finish with no loose stones.
Adaptable: Resin Bound Gravel can be laid to fit any shaped area – driveways, paths or ramps.
Hard–wearing and fuss–free maintenance.
Durable and hard–wearing and it doesn't discolour
Low maintenance
Eco–friendly and SUDs compliant
"New Resin Drive"

"The drive looks wonderful. Tony suggested and explained what was required for the best surface for our steep drive entrance. Tony and his colleagues were very positive, polite and thorough. They were well organised, hard working and tidy. We paid exactly what was estimated. We thoroughly recommend this company."
Customer from Petersfield, Hants
Quality
Workmanship

You Can Trust

New Driveway
"Resin drive at the front and side of the house. Tony was very helpful in deciding on how and what was best. Very pleased left it all to him and his men, clean prompt excellent work.
I'd recommend them to anyone."
Customer in Petersfield

Extensive Drive Installation
"Started Monday, finished Sunday, for what was a large drive. The team on site were a great team and a pleasure to have around for the period of the work. Would strongly recommend anyone looking for a drive to be installed to take a look at this company before selecting your contractor."
Customer in Petersfield