Resin

Bound

Working throughout Waterlooville, Havant, Fareham, Portsmouth, Petersfield and all surrounding areas in Hampshire.

Resin bound gravel is a decorative, durable and low maintenance surface available in an extensive range of colours. Resin surfacing is rapidly becoming a more popular alternative surface for paths, patios and driveways because of its smooth, attractive look and its low-maintenance requirements. It also complies with SUDS (Sustainable Urban Drainage Systems) regulations. It's ideal for small or large areas. With a 10 year guarantee and a large choice of colours you can quickly see why this is such a popular surfacing system.
How We Work
The stone of your choice is mixed with the resin in a mixer which ensures that every stone is coated in the resin. Depending on the size of the stone this mixture is trowelled to the appropriate depth.
If required we can provide a complete installation prior to the final resin finish including;
Excavation of existing area.
Installation of a new sub-base with a weed-deterrent membrane.
Kerbing/edging of your choice
Laying of tarmac or concrete.
And any associated hard landscape requirements such as brick walls & drainage.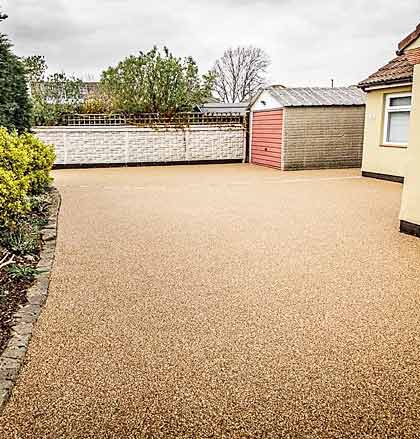 Resin
Surfacing

For Everyday Use

Transform your driveway area, patio, path, swimming pool, etc. into a stunning new resin surface, the perfect way to add kerb appeal to your property. Resin stone can be laid on any existing hard surface inlcuding tarmac, concrete and flagstone, providing the base is suitable.
A Safe and
Flexible

Surface

Resin bound paving can be used for paths and driveways and, as it's skid and slip-resistant, it will ensure the safety of you and your family.

It's also flexible, so it's resistant to cracking and to frost and is both strong and durable, meaning that your surface will last for years to come.