RESIN
DRIVES

HAVANT

We are the South's leading specialists in Resin Bound Surfacing for driveways, paths and patios
– and surfaces in public and commercial areas. Working throughout the Havant area including Leigh Park, Bedhampton, Rowland's Castle, Langstone and Denvilles.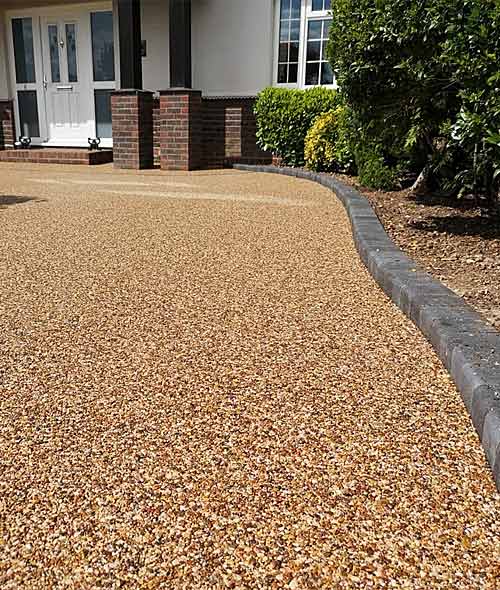 Lasting
Resin

Surfacing Havant

Here at RESIN STONE DESIGNS we've built up a solid reputation in the resin driveway construction sector in the Havant area – with over 30 years' experience, satisfying local customers. We continue to provide a full and professional service from careful planning through to the final finish, using the best quality materials available.

Resin bound surfacing is ideal for driveways, paths and patios. It's also being used more and more in public and commercial areas – car parks, hotels, care homes, offices and shop fronts.

It's more versatile than traditional surfaces like concrete, block paving and tarmac because of its toughness and durability – it drains well and it can be laid in a huge variety of colours and designs to suit your personal taste. It's elegant, smooth, seamless, hard wearing, porous and SUDS (sustainable urban drainage system) compliant.
Choose

a Resin Bound Surface
Smooth finish with no loose stones.
Adaptable: Resin Bound Gravel can be laid to fit any shaped area – driveways, paths or ramps.
Hard–wearing and fuss–free maintenance.
Durable and hard–wearing and it doesn't discolour
Low maintenance
Eco–friendly and SUDs compliant
"New Resin Drive"

"Tony and his team worked hard on the hottest day of the year, digging up my old driveway. We are really pleased with the new drive. It looks fantastic. A great finish by the team. Tony was on hand to advise what would be occuring. His lads grafted and did a first class job. Many thanks and we highly recommend."
Customer from Havant, Hants
Quality
Workmanship

You Can Trust

New Driveway and Patio
"The job required a significant amount of preparation prior to actually laying the resin. Tony and team where very diligent about getting the preparation right so that the end result looked right. Great attention to detail, which delivered a great finish that looks absolutely fabulous. First Class."
Customer in Havant

Extensive Drive Installation
"Started Monday, finished Sunday, for what was a large drive. The team on site were a great team and a pleasure to have around for the period of the work. Would strongly recommend anyone looking for a drive to be installed to take a look at this company before selecting your contractor."
Customer in Havant